Type and Fashion for Form magazine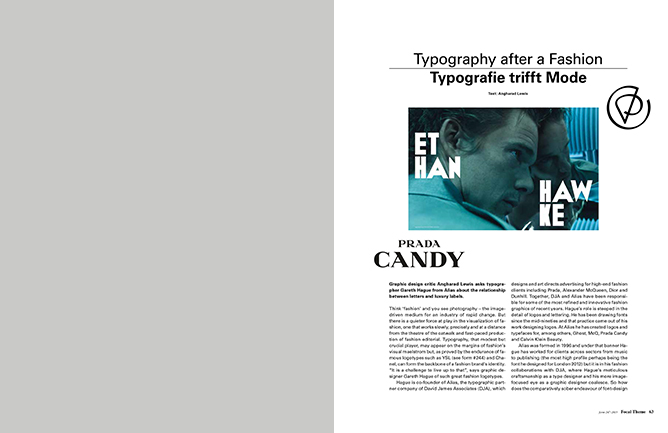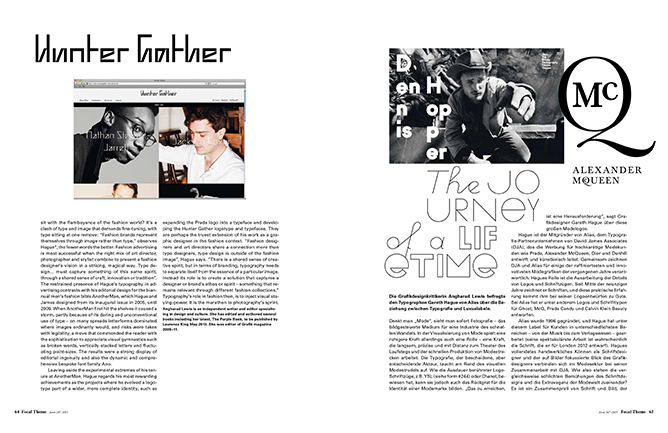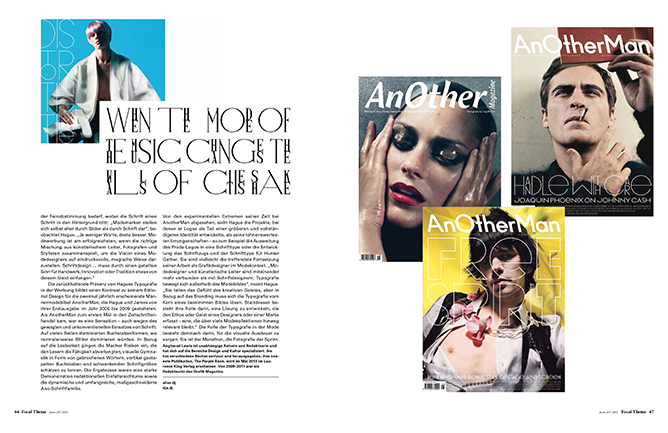 Form Magazine (form.de) recently featured us in article in which, as they describe as on their website 'Angharad Lewis analyses the not always easy relationship between typography and luxury labels, taking the works of Gareth Hague of Alias as an example'.
For that article I completed a Q&A for Angharad, revised text below. In this article I talk about the role of type in branding and advertising, not collateral design such as websites.
Could you explain the commissioning process for your work and outline the expertise you bring to fashion branding projects?
I'm not sure this process is any different in fashion than it is for anything else – the role of type is to capture something of the essence of the brand, what makes it special and unique.
Are there any unique considerations for type design in a fashion context as opposed to other sectors?
The fashion image is best left to do its thing unexplained. So, whether subtle or obvious, it connects with the viewer long enough to make its point.
Fashion brands represent themselves through image rather than type, and tend to work best with the fewer words the better. Fashion advertising is most successful when the right combination of art director, photographer and stylist combine to present a fashion designer's vision in a striking, magical way.
If you see a fashion campaign with supporting typography, catchy tag line or slogan, it will have been done  – usually – by a misguided advertising agency or un-art directed in-house marketing department.
Fashion should let you fill on the gaps yourself, become what you want it to be. So if you want to make a fashion campaign with type that has to be its start point. See Peter Saville's work for Yohji Yamamoto with cityscapes constructed from type, or some of Comme des Garçons' super-oblique campaigns. Note that these are two cerebral, conceptual designers.
The technical, detailed work of type design can seem far-removed from the fashion world – what is your view on the role of good typography in fashion branding?
Type design shares the same spirit of (for example) craft, innovation, modernity and heritage as fashion. So when you talk about (good) branding in (good) fashion you're talking about design that expresses the appropriate combination of these ideas through a name or word.
Type most powerfully represents a brand through its logotype. With a tradition of some of the greatest, most famous logos from any industry – YSL, Prada, Chanel – there is a challenge to live up to that.
What for you has been the most successful or rewarding application of an Alias font in the fashion world?
Making logotype part of a wider, more complete identity. So expanding the Prada logo to a typeface, and developing the Hunter Gather logotype and typefaces.
Also, Another Man and Another magazines I think are successful examples of combining fashion photography and striking typography in a progressive, innovative way, bringing image and type into a cohesive whole.
Can you pin-point any seminal graphics/ fashion intersections that have inspired your practice?
Logos for YSL, Yohji Yamamoto, Comme des Garcons…
In terms of strategies and approaches, what can graphic designers and their fashion clients learn from each other's way of working?
Fashion designers and art directors share a connection more than type designers, type being outside and separate to the photographic fashion image. There is a shared sense of creative spirit, but in terms of branding typography needs to separate itself from the essence of a particular image, fashion moment or campaign. Instead it s role is to create a solution that captures a designer or brand's ethos or spirit. So something that remains relevant through different fashion collections over a period of time.
Thanks to Form magazine and Angharad Lewis.