Hunter Gather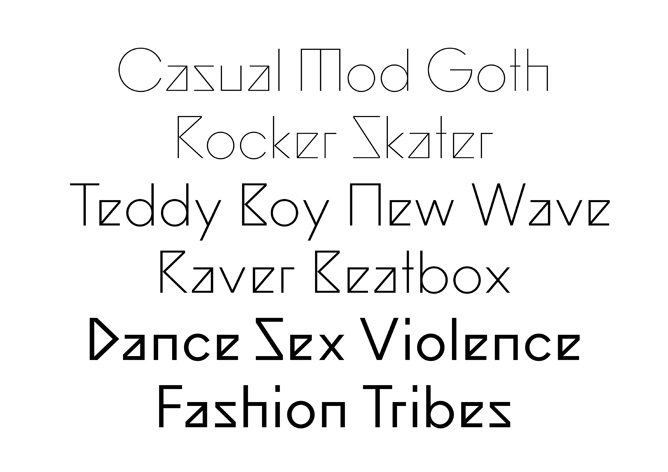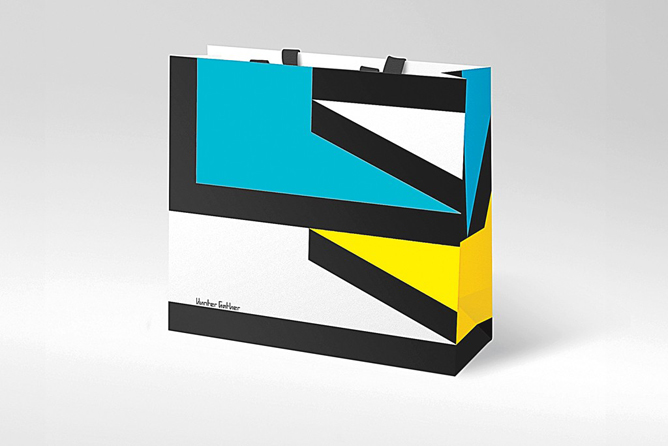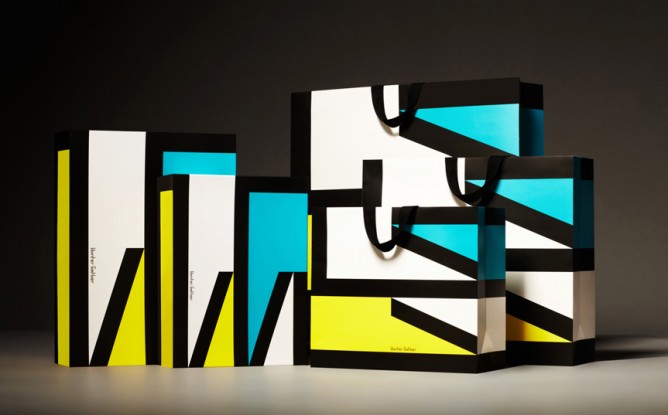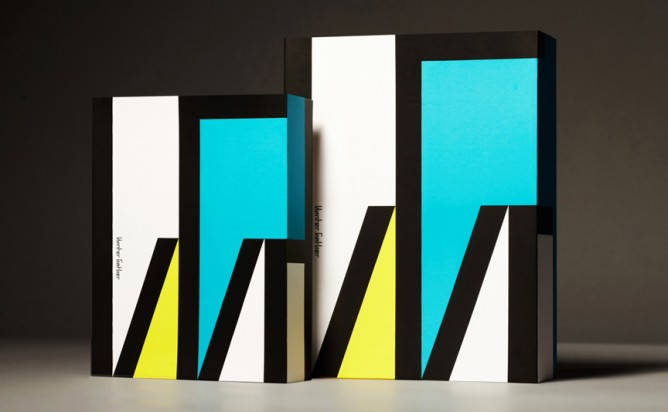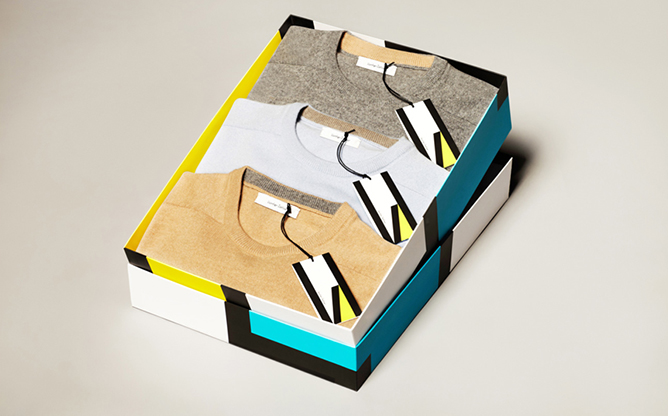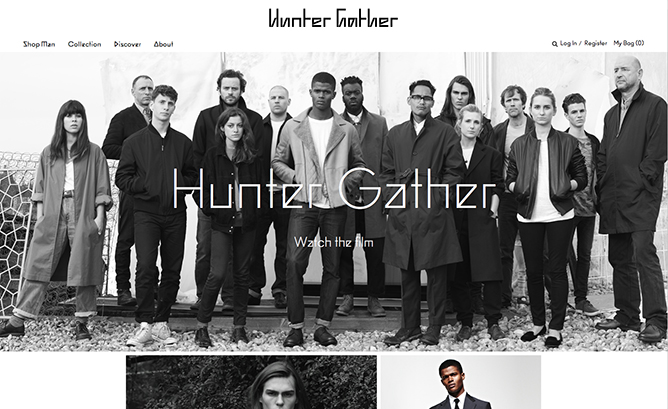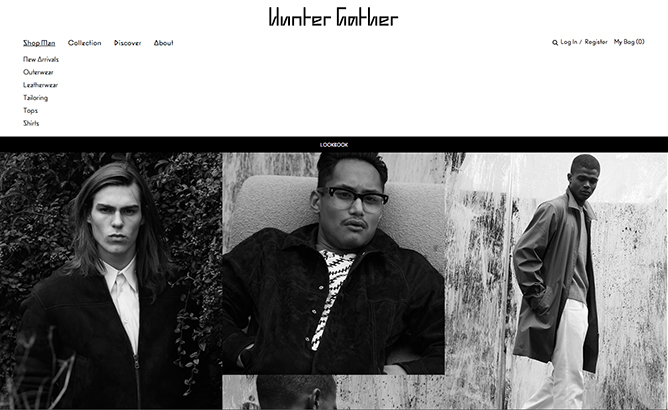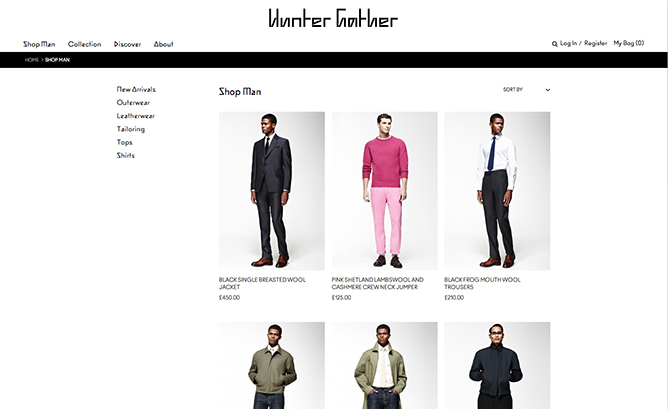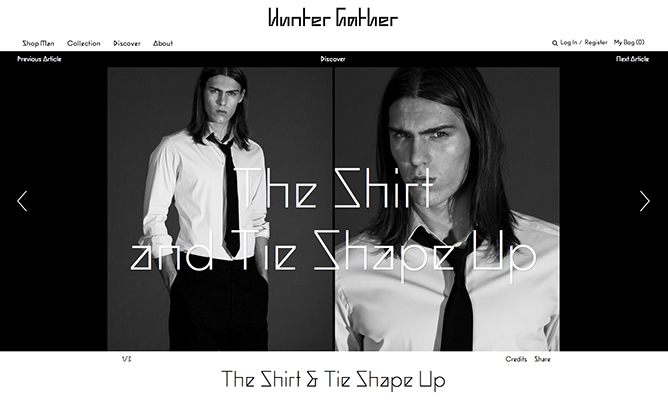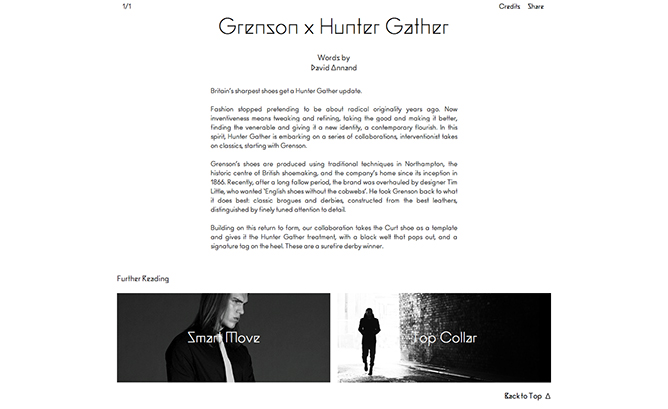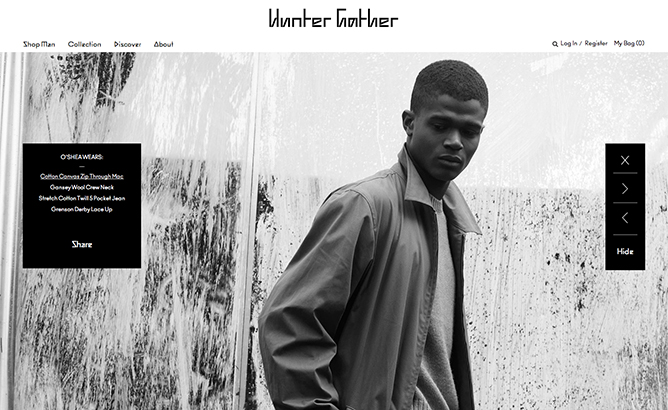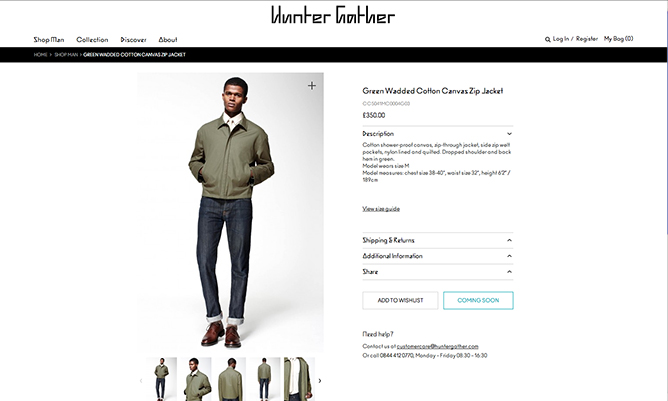 Hunter Gather is an e-commerce website and stand alone shop in Marylebone, London. It sells modern, cool versions of menswear staples, peacoat, leather bomber jacket, denim etc.
Art direction and graphic design was by DJA, logotype and typeface design by Alias. Website layout was by Spring Studios.
The direction for the graphics was to be tribal, like the tribal fashion of youth culture and specially that of London, so urban, hard and graphic. And modern, different. Of course.
A linear logotype, that looked like mark making, graphic like a logo or symbol as much as being a word. Being a logo for a fashion label, it needed to work in cloth at small sizes,and as an architectural device at the front of the shop.
There were various reference points from our own work, as well as an awareness of the zeitgeisty brutalist linear typography as shown on graphic design blogs such as manystuff.org, or European independent arts publishing. By awareness, I man an understanding that we had to do something different to this, in type design, typography and layout.
The two key reference points we had were our Vacant typeface and custom lettering designed for a show invitation for Prada. Both angular, one arbitrary and thick lines, one modular and thin lines. Vacant looked tribal, abrasive, but its arbitrary design was too much. Good for a magazine, but maybe too wearing for a logo, too specific. The Prada invite lettering, with kits Asteroids video game tech-linear design suggested a structure for a cleaner, more pure design direction. The logo is strongly modular, with it's diagonal device rotating and flipping.
A three tier graphic system, with the logotype and a text typeface at either end, and an impact headline typeface in between, its design as if interpolated half way between the two. A typeface dramatic enough to stand out online, in a layout constricted by the speedily functional needs of e-commerce, of displaying product and information in an immediately understood way. It is interesting that with all the possibilities digital media makes possible, in terms of layout there are design ideas that are surprisingly recurring and consistent.
Ano typeface was used for text, its geometric nature balancing the angular logo, at one end of the tier straight lines, the other, circles. It therefore made sense for the interpolated headline type to mix angles and circles, but be readable, not abstracted or conceptual. Partly a more functional version of the Prada invitation type, but clearly connected to Ano, so that the idea of that typeface morphing into the angular design of the logo is made clear. While maintaining enough difference in terms of style and weight so that the logo stands out, is clearly separate and important.
It seems to me that online typography has a particular, extra impact to make, bearing in mind the different way the user connects with a website, particularly a selling website, to a book, magazine or poster. By that I mean there is an extra imperative to make a connection and transference of message quickly. There is a different way of reading a magazine layout, through the rhythm of its use, of turning pages, of connecting developing ideas from front to back and issue to issue.
An e-commerce idea can include editorial, text and still and moving image, as huntergather.com plans to do, but its purpose is to sell, to direct you to what can be long lists of modular-presented product – and the process of buying as smoothly and as quickly as possible. A volume of product that in a shop looks enticing, on a website looks bewildering, obfuscating, without any sense of luxury. They will hope that users stop and browse, will research hits and page views, but will aim to sell, quickly.
The carrier bags have a bolder graphic approach. These use the HG of the logotype to make a monogram, the bag scaled to fit its proportions. Its bold colours with thick black borders suggest maybe Memphis, maybe abstract art or new-wave record sleeve. It is dramatic, has impact, it represents a brand that is doing something interesting, that a customer will want to buy into.