Branding Cities – Q&A with Creative Review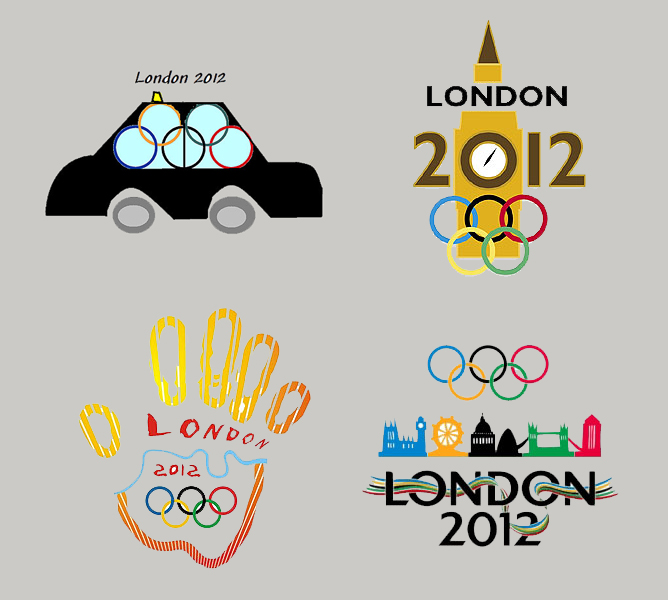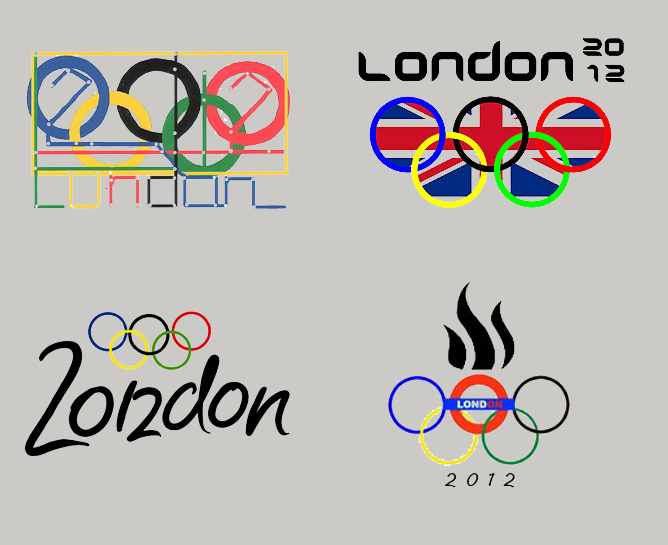 I was asked by Rachael Steven of Creative Review to take part in a feature on branding cities. The full Q&A is below. The pictures above are responses by members of the public to a request by the BBC to send in their alternative London 2012 logos.
The London typeface and logo proved quite controversial when it was released – why do you think this was?
It didn't conform to expectation. the 2012 branding expressed an idea – successfully or not – of the spirit of the Games as expressed by the London Organising Committee and the spirit that London has – of dynamism, energy, youth. So London was presented through this idea rather than through historical imagery or architectural landmarks. This and the spiky, abrasive design of the identity as a whole clearly bothered a lot of people. More so before – rather than during – the Games, when the design scheme could be seen as a whole.
What was your brief for the London 2012 typeface?
My brief was to extend the aesthetic of the already designed logo to a high impact, headline-use, unique typeface. So a spiky logo for a spiky typeface.
How did it compare to working on a typeface for a brand?
It was the same. Sometimes we adapt or expand existing ideas, sometimes we create identities from scratch.
Any attempt to rebrand/design visual identities for places often seems to prove quite controversial, particularly with residents. How do you think designers can address this when working on identities or typefaces for a place, or do you think it's not something they should worry about?
They are controversial because they represent things people understandably feel very strongly about. Designers should be conscious of this, but need be separate from what is narrowly literal or specific and look to what will have meaning and impact to the wider world. It doesn't help that branding is a concept that people seem to mistrust, and regard how it as presented as the smoke and mirrors of management-speak gobbledegook. The recent logo and rebranding controversies, 2012, Everton FC and in America Gap and University of California show how social media has given a voice to individuals and groups to express opinion and impact decisions. In design terms, this has not necessarily been for the better. Clients and designers need to be brave, pandering to a vocal minority or too many different opinions will lead to mediocrity and lack of focus.
How closely do you think typefaces for destinations should reflect their heritage/visual history/culture, if at all, and why?
How should a typeface reflect a place's heritage or history? If London, does that mean it has little pictures of Tower Bridge or Buckingham Palace? A (properly functioning) typeface isn't pictures or photographs, it can't hope to encapsulate every part of what a company – or place – are or represents. It can express old or new, or hard and soft, a point of view, an attitude. It needs to do this in a way that is relevant to now, and that separates it from its competitors, and that functions in the ways it needs to function
And lastly, we've seen quite a few recent examples of smaller towns and cities commissioning bespoke faces as well as countries. Do you think more places should have their own, and why? What are the key benefits and why is it important, or not important?
In today's economic climate, with high streets struggling, with competition for shopping from out of town malls and the internet, I think anything that helps towns and cities present themselves in the best possible way is a good idea. Bespoke type allows them to present what makes them special and different in a unique, tailored way through every facet of their communications. As with any other product, if a town can't present something different, enticing, valuable, why would it succeed?